The American Equity Underwriters, Inc., the leading provider of workers' compensation insurance for maritime employers, announces that two employees – John A. "Jack" Martone and Ryan LeVeque – have been named to the board of directors of the
Longshore Claims Association
, a non-profit organization of claims professionals serving the shipping industry and longshore and stevedoring communities.
Martone, senior vice president of AEU Advisory Services, previously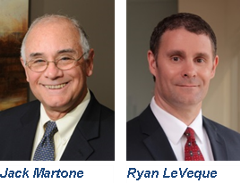 served in various positions for 27 years with the U.S. Department of Labor, Office of Workers' Compensation Programs, as Chief, Branch of Insurance, Financial Management, and Assessments and as Acting Director, Division of Longshore and Harbor Workers' Compensation. As Branch Chief, Martone directed the licensing and regulation of insurance carriers and self-insured employers under the Longshore and Harbor Workers' Compensation Act. Martone earned a bachelor's degree from Fordham University and a juris doctorate from St. John's University School of Law.
LeVeque, who serves as a claims supervisor with AEU, has nearly two decades of experience managing California, Alaska and Oregon state workers' compensation, USL&H and Jones Act claims. LeVeque received a Bachelor's degree from the University of Oregon.
"The new members bring exceptional experience and will be tremendous assets to further the LCA's mission to extend and perpetuate the policy of sound and proper administration of various Federal Workers' Compensation acts, the Jones Act and general maritime laws and statutes," LCA president Warren Abell said in an announcement about the new board appointments, which included a total of four new members
About the Longshore Claims Association
LCA is a non-profit organization of claims professionals serving the shipping industry, longshore, and stevedoring community, ship building, ship repair and ship breaking industries. In addition to offering competitively-priced and comprehensive maritime and admiralty educational programs, including those focused on claims administration, insurance management, employer awareness, legal case management and other matters arising under admiralty, maritime and federal workers' compensation claims under the Longshore & Harbor Workers Compensation Act, Non-Appropriated Funds Instrumentalities Act, Outer Continental Shelf Lands Act, Defense Base Act and War Hazards Act. To learn more, visit
longshoreclaimsassociation.org
.