We are pleased to announce that Kayla Tortorich has joined the staff of The American Equity Underwriters, Inc. (AEU) as Vice President of Claims Medical Management.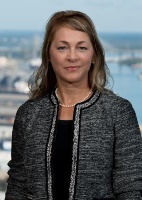 Prior to joining AEU, Kayla spent more than 10 years working in the insurance industry where she gained experience managing a Medical Bill Review team, a Medicare Set Aside (MSA) team, a Pharmacy Benefit Manager (PBM) vendor, and Field Medical Management nurses. She has been a speaker at several national conferences on industry trends and best practices including the 2014 Loyola Law School's Annual Longshore Conference.
"Kayla's experience will further benefit ALMA members as we continue to distinguish ourselves in the marketplace with our unique approach to claims handling by focusing on reducing the overall claims costs which ultimately results in lower member premiums," said Mike Lapeyrouse, President and CEO of AEU.