The American Equity Underwriters, Inc. (AEU), the leading provider of workers' compensation insurance for waterfront employers, announces that loss control manager Jason Lake has been named one of Inland Marine Expo's 40 Under 40 for 2019.
Now in its second year, the 40 Under 40 award recognizes men and women under the age of 40 who have made outstanding contributions to the inland marine transportation industry in a variety of fields. Recipients of this prestigious award were recognized at the Inland Marine Expo's National Maritime Day Recognition and Awards Ceremony in St. Louis, Mo., on May 22, 2019.
"Jason is a tremendous asset to AEU and we are proud that he's been recognized by IMX as a leader among his peers," said Michael Lapeyrouse, president and CEO of AEU. "His commitment to maritime workplace safety is indicative of his dedication to this industry."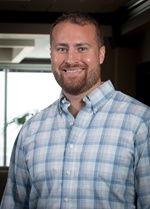 Lake joined AEU as a Loss Control Manager in February 2013 with extensive experience and formal training conducting on-site analysis, safety management and cargo handling from the vessel perspective. After earning a bachelor's degree in marine transportation from the U.S. Merchant Marine Academy, he sailed with the world's largest container shipping company as third mate, second mate, and then, in his last two years, as chief mate. He is licensed by the U.S. Coast Guard as Chief Mate of Steam or Motor Vessels of any Gross Tons Upon Oceans or Waterways.
For a full list of 40 Under 40 award recipients, click here.
About Inland Marine Expo (IMX)
Produced by the experts at The Waterways Journal, IMX is designed specifically for the inland and intracoastal commercial marine industry. Since 1887, The Waterways Journal has served as the news journal of record for the towing and barge industry on the inland waterways of the United States. From CEOs to deckhands, the publication is the trusted news source for over 16,000 readers.